Pheasant Hunting - Harrold, South Dakota
Directory of 5 Harrold South Dakota pheasant hunting lodges, guides, outfitters,clubs, preserve listings found near Harrold, SD.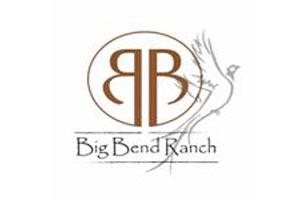 21617 Joe Creek Road, Harrold, South Dakota 57536
Phone: (605) 216-8203
Big Bend Ranch sprawls along the mighty Missouri River, consisting of over 5,600 acres of rich farm and ranch land that cultivates the perfect atmosphere for fantastic pheasant hunting. Our dedication to your safety, knowledgeable staff, and strategic wildlife management tactics help us ensure that your experience is nothing less than rewarding. Our farming methods and bird numbers remind hunters of the great hunting of a bygone era. During your stay with us you will find that wily Ring-necked Pheasant and Hungarian Partridge abound across the acres of Big Bend Ranch. Additional opportunities for our hunting parties include Prairie Chicken and Sharptail Grouse that inhabit our peaceful, rolling terrain.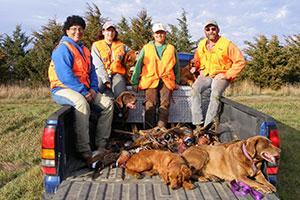 32525 198th St., Harrold, South Dakota 57536
Phone: (605) 852-2363
Do you like to hunt all wild birds? Than we are the place for you. There are NO released birds on our place. We have a variety of different types of grass, and abundance of tree belts, several food plots, and farm ground which is all no-tilled. All of these aspects together are what provide us to have cover everywhere.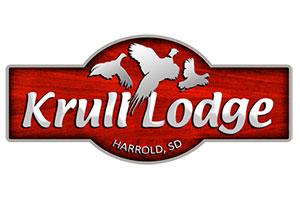 32140 Highway 34 East, Harrold, South Dakota 57536
Toll Free: (888) HUN-TSD1, Lodge: (605) 875-3511
A unique combination of plentiful nesting cover, year-round running water, well-managed row crops, and large contiguous tracts of native prairie land, all contribute to the high populations of our various species of game birds. Guests have a rare opportunity to hunt Pheasant, Sharptail Grouse, Greater Prairie Chicken and Grey Partridge all on the same property. The ranch also contains 5 private shooting preserves totaling more than 4500 acres, extending the pheasant hunting season from September 1st until March 31st.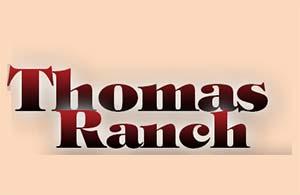 18441 Capri Place, Harrold, South Dakota 57536
Phone: (605) 973-2448
The Thomas Ranch is family owned and operated, located 50 minutes from the State Capitol and the Pierre Regional Airport. The ranch has an extended hunting season with pheasants in abundance. Special Hunts are available and also larger bag limits. Hunting is available for either the older or not so adventuresome hunter, or with bigger fields for the aggressive hunters. The ranch is located along a creek where there is plenty of water and feed for the pheasants. The Thomas Ranch runs a purebred Angus and Charolais herd, as well as registered Quarter Horses. The family feeds cattle all winter so the birds are fed well during the winter, sharing in the corn and grain fed to the livestock. The Thomas family would be excited to have you join them for a hunting experience you'll never forget. Thomas Ranch will custom design an affordable hunt for your group. Ask us about hosting private hunts for small groups and designing a hunt to suit your needs. Thomas Ranch provides guides that are professional and friendly and run some of the best bird dogs in the country. Thomas Ranch enjoys showcasing South Dakota hunting.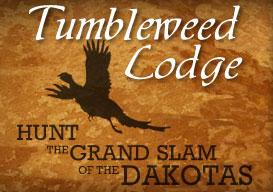 20210 321st Avenue, Harrold, South Dakota 57536
Phone: (605) 875-3440
Packages are available for 2-4 day hunts and are all-inclusive which makes traveling on a hunt within the U.S. even better. Lodging, meals, top-shelf bar, guides with experienced dogs, pheasant license, transportation to/from the Pierre Regional airport, vacuum-packed game processing with cooler, use of the 8 station sporting clay course, and shells for the clays and hunt are all included in the trip.

If we are missing any Harrold South Dakota Pheasant Hunting listings or have any incorrect, please contact us.