Pheasant Hunting - Baxter Springs, Kansas
Directory of 1 Baxter Springs Kansas pheasant hunting lodges, guides, outfitters,clubs, preserve listings found near Baxter Springs, KS.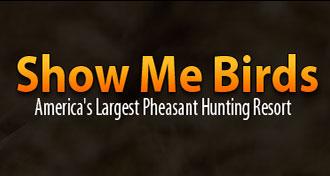 2400 SE Quaker Rd., Baxter Springs, Kansas 66713
Phone: (620) 674-8863
Our ringneck pheasant provides the same exciting hunt as any of mother-natures game-birds. Yet, you do not have to drive eight hours, rent a motel room, eat a dozen meals on the road, spend hours asking permission to hunt, pay a trespass fee to hunt, walk ten miles per bird, spent nights away from the family, then drive another eight hours back home. The, upon arrival you try to explain to your wife why you had to spend several hundred dollars for enough pheasant to feed your family one meal!

If we are missing any Baxter Springs Kansas Pheasant Hunting listings or have any incorrect, please contact us.