Idaho Pheasant Hunting
Directory of 9 Idaho Pheasant hunting lodges, guides and outfitters in Idaho.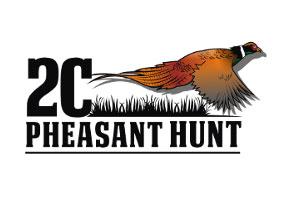 27333 Fountain Road, Parma, Idaho 83660
Office: (208) 880-0997
Come join us at 2C Pheasant Hunt, Idahos newest hunting reserve on 160 acres. World Class Pheasant and Chukar Hunting in Parma, Idaho. Only 40 minutes from Boise. Our season runs from October through March, taking reservations now. Full day hunts include either 8 roosters or 9 chukar released per person with lunch served mid day.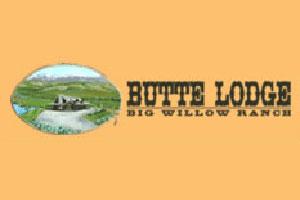 1 Dixie Lane, Payette, Idaho 83661
Phone: (208) 369-3751
Big Willow Ranch is located 45 miles northwest of Boise, Idaho in Payette and Gem counties, a 1 hour drive from the Boise Airport. The 4,000 acre preserve is open for hunting from September 15th through February 28th.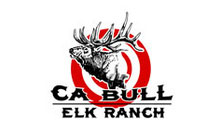 1094 E 1520 N, Richfield, Idaho 83349
Phone: (208) 404-9632
Nestled in the heart of the Magic Valley, CA Bull Elk Ranch offers 800 acres of excellent habitat with a mix of open fields and outcroppings with standing cover. Located only 35 miles from the Wood River Valley, 50 Miles from Twin Falls, 145 Miles from the Treasurer Valley. Let us be YOUR pheasant destination. Also just to help you keep your site up to date Tews hunting ranch in Shoshone Id has been out of business for at least 3 years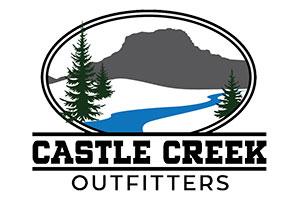 13 Seventeen Mile Road, Salmon, Idaho 83467
Phone: (208) 756-2548
Hunt ruffled Grouse, Blue Grouse, Spruce Grouse, Forest grouse, upland Bird hunting. Stay at our High Country base camp and hunt upland game by horseback, ATV, or vehicle. Meals and guides included.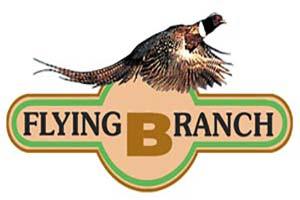 2900 Lawyer Creek Rd., Kamiah, Idaho 83536
Phone: (800) 472-1945
Upland species commonly found on the Flying B Ranch are Hungarian partridge, chukar, pheasant, blue and ruffed grouse, and valley quail. Guests hunt over the Flying B Ranch's German Shorthairs and English Pointers, the pride and joy of the operation. No bag limits.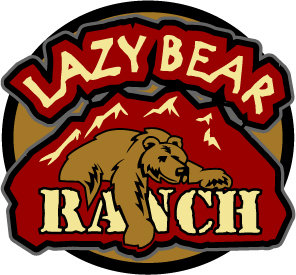 612 Unity Lane, Weiser, Idaho 83672
Phone: (208) 549-1529
Our "Day Pheasant Hunts" are fully guided and clients will enjoy a gourmet lunch in our beautiful outdoor kitchen, made to impress the most finicky (City Slickers), friends, or clients. If you can't get enough Pheasant hunting in one day, check out our two or three day all inclusive Pheasant hunting packages. With stay over packages you can expect many extras: First class accommodations, gourmet meals prepared by our chef, bird cleaning for the nights you stay and even a chance to catch some fish or shoot a wild quail or two. As with all of our hunts, clients are encouraged to bring their own dogs or rent one of ours.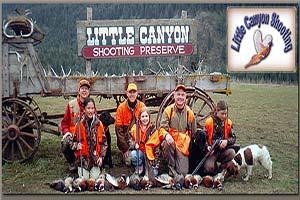 2170 Little Canyon Road, Peck, Idaho 83545
Phone: (208) 486-6235
Little Canyon Shooting has much to offer. It is your full service destination. We offer pheasant and chukar hunting on multiple ranches, clay shooting, continental shooting, shooting instruction, lodging, meals, professionally trained dogs, and a pro shop. We also offer memberships as well as day hunts.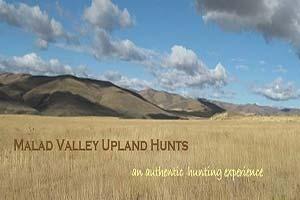 3400 W. 2800 N., Malad City, Idaho 83252
Phone: (208) 766-4208
Malad Valley Upland Hunts (MVUH) offers an authentic hunting experience. We are a hunting preserve that provides hunters with an area of natural habitat which is theirs for the day. We encourage hunters to bring their own dogs so they can have an experience that is as close to wild as possible. Another unique feature about MVUH is that we do not require a membership. Our hunting season runs from August 15 to April 15.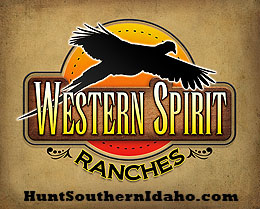 1935 US Highway 26, Gooding, Idaho
Phone ext. 10: (208) 934-5325
Western Spirit Ranches (WSR) offers "world class" upland game hunting on hundreds of acres of natural habitat. Our Our Little Wood River preserve (Shoshone, Idaho) is perfect pheasant, chukar and quail habitat with a beautiful lodge, RV parking and catering services. WSR is open from August 15th – April 15th every year with half day and whole day hunting. We will take bookings as far out as six months ahead of time.