Navigation:
Home
> Self Guided Pheasant Hunt
Self Guided Pheasant Hunt
By: Chris Hitzeman - UGUIDE South Dakota Pheasant Hunting
For UltimatePheasantHunting.com

The Do-It-Yourselfers Guide to Fair Chase Pheasants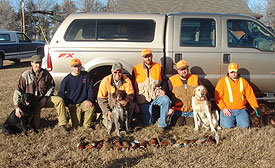 How do you spell Self-Guided Pheasant Hunting? Just show me where the birds are and leave me alone.

Actually, how hunters define self-guided pheasant hunting varies quite a bit. Over the years I have had opportunity to visit with many who are hunters shopping for pheasant hunting vacations. Many hunters calling me emphasized this point "Well, we don't want a guide you know" and I simply restate the name of my business "UGUIDE" was created just for that reason... self-guided hunting experiences.

Well, what about game farm or preserve hunting you ask? Can that be self-guided? Sure! I was recently invited to hunt at Marsh Lake Preserve in Victoria Minnesota. I've only hunted at a game farm one other time in the last 28 years. Marsh Lake was a great "Self-Guided" pheasant hunting experience. The club put out 16 birds, told us which fields we were to hunt and turned us loose. We went 16 for 16 in about 2-3 hours.

Most guys that call me are really looking for "Self-Guided Wild Pheasant Hunting". Most guys like me grew up on pheasant hunting by staying in motels and hunting public ground and road ditches with the occasional foray onto private ground whenever the opportunity (and permission) presented itself. With this type of hunting 3 things happen: You fill your gas tank a lot, you put a lot of miles on your vehicle and success can be hit-or-miss. This type of hunting avails itself in most states where pheasants can be found. Typically guys that like to hunt by themselves or in small groups of 1-2 hunters like this style of hunting. I hunted by myself for many seasons and enjoyed it immensely.

Self-guided pheasant hunting in South Dakota on the other hand can be a different story. Get into a corn field or CRP with several hundred birds in it late season and you can have you A## handed to you real quick. The more birds the more eyeballs and with the immense bird numbers, danger can be spotted by the bird pack hundreds of yards away and they would rather escape on the ground than take to the air.

Some friends of mine are Guide's in the Mitchell area and don't like to go out with groups smaller than 4-6 hunters. "You need that many to walk and block appropriately. To be effective and successful".

If your like me and have done the Hotel/Motel/Public thing for enough years and wanted to have a more controlled private exclusive experience, then your best option might be to do what I did and look into private lands ownership. I have a blast with my habitat projects and rarely have to leave the property to hunt elsewhere.

If you're not in a position to take down a piece of land then your most cost effective option might be to start exploring trespass fees. This is regarded as paying a private landowner to access his ground without any warranty (no assurances of controls, pressure, habitat, bird numbers, etc.). This can sometimes be as risky and frustrating as public hunting where you never know whose going to show up or who has been there before you or better yet, where are they going when they are there the same time as you.

My definition and experience with South Dakota Self-Guided Wild Bird Pheasant Hunting was the basis for how UGUIDE Pheasant was formed. I wanted an authentic, real, wild pheasant experience, in the setting of above average habitat and hunting conditions in a controlled private and exclusive environment. That's what I build into my Pheasant Camp Lodge in Charles Mix County South Dakota and all the other 8 Pheasant Camps across south and North Dakota, that UGUIDE offers.

UGUIDE packages high quality self-guided land & lodging experiences on privately owned land (not leases). Hunters that book hunts with UGUIDE relate directly with the landowner that owns and farms the operations and manages it for pheasants. The owners show hunters where to go and where to stay and pretty much stay out of their way unless they need help or have questions.

If you have a bird dog and know how to hunt pheasants, get a group of guys together and head to South Dakota for the best self-guided wild bird pheasant hunting in the nation.

---
Try a self-guided hunt out for yourself with UGUIDE South Dakota Pheasant Hunting. Start by viewing UGUIDE Availability or use UGUIDE's Trip Cost Quote Calculator to price out your own hunt.