Corporate Pheasant Hunts
By Ryan Trask
Ultimate Pheasant Hunting

Corporate pheasant hunting ideas, checklist and booking information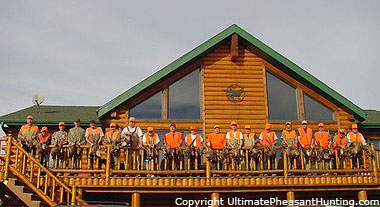 Pheasant hunting has become commercial and it's growing in popularity with corporations as a legitimate business expense to rejuvenate employees.

The camaraderie in the field is something that sometimes cannot be generated in the office. Ideas grow stronger, teamwork is re-born, and people can forget that monstrous "to do pile" on their desk.

Once you get out in the field, you have one thing on your mind: shooting roosters. You had better make sure your skills are honed because if you are shooting poorly, chances are you are going to get some grief from your business associates back at the office.

Don't make your hunting trip another meeting, make it an event, snap a few photos, and revitalize your most important asset... your employees.
Corporate Pheasant Hunt
Checklist
Here is a checklist of things that an outfitter should provide for your company or things to think about for your corporate pheasant hunting trip.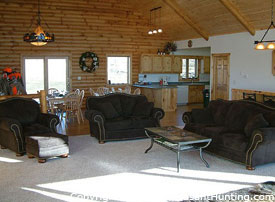 1. Lodging
Total capacity of lodge
Rooms available
Hunters per room
2. Things to do
Big screen TV
Pool table
Poker table or chips
Alcohol & bar
Hot tub
Local attractions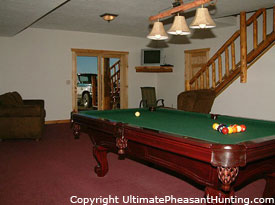 3. Business Amenities
Internet/wireless
Laser jet printer
Fax machine
Projector
Copier
Office supplies
Microphone
Sound system
White board
Tables and chairs
Conference room
4. Hunting Items (Not Included)
Shotgun
Rifle for prairie dog, coyote or deer (Optional)
Blaze orange upland vest or coat
Blaze orange cap or stocking hat
Chaps/upland pants
Game strap (If no upland vest)
Sunglasses/shooting glasses (Must have)
5. Other Hunting Items (Usually Included - Check with Outfitter)
Licenses and/or stamps
Shotgun shells (patterned) - Steel and/or lead
Sporting clays
6. Dogs (If bringing dogs - Check with Outfitter)
Electronic dog collar
Beeper collar
Dog boots
Dog vest
Tummy protector
Dog whistles
Pocket knife
EMT Gel
Water bottle
First aid kit
Dog water
Dog treats
Rabies vet certification
Location/Directions of closest vet
Corporate Pheasant Hunting
Outfitters
Here is a list of our feature pheasant hunting outfitters that will accommodate corporate pheasant hunts. Just read over the outfitters profile pages on what they offer and contact them by email or phone to request a call back from them. We have several quality outfitters on Ultimatepheasanthunting.com, so you shouldn't need to look elsewhere in your search.