Booking A Pheasant Hunt
By: Ryan Trask
Ultimate Pheasant Hunting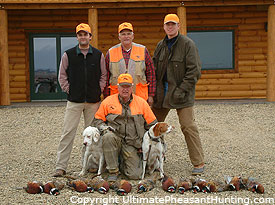 Unless you are fortunate to own your own land, or have a relative or friend who does, chances are that most of your pheasant hunting has been on public hunting areas that are controlled by the state.
Some of you may have already benefited by enlisting in the services of a professional pheasant hunting outfitter or pheasant hunting guide service.
For many, the internet has opened the pheasant hunting world to an infinite, world wide audience of pheasant hunting enthusiasts who are looking for information online on how to hunt pheasants, where to hunt pheasants, pheasant hunting outfitters, and hunting pheasants on public ground.
Searching for a place to hunt
Traditional ways on finding information on pheasant hunting outfitters in the past included magazine articles and advertising, the occasional outdoor TV show, and the annual outdoor trade show at the local arena or civic center. With the birth and cumulative growth of the online world, more and more pheasant hunting information is readily available to anyone globally.
This is where a pheasant hunter can either hit pay dirt or get really confused. Finding a pheasant hunting outfitter online can be a science in itself. You either need to start at one of the major search engines (Google, Yahoo! or MSN), and type in the information you are searching for, such as "pheasant hunting in South Dakota" or "Iowa Pheasant hunts" or maybe "Wisconsin pheasant hunting preserves".
The results that are returned from your search query are based on a bunch of factors that the search engines determine as relevant to your query. An outfitter that has chosen a professional web design service (such as Ultimate Outdoor Network.com) will benefit by ranking higher in the returns. This does not necessarily mean the top ranking outfitters meet your personal pheasant hunting needs. Here is where it is up to you to decide.
Budget & Costs
First of all, you need to identify your budget. Many outfitters are in the $250-$500 a day range. Some are even higher-even as high as $1,500 a day! And the opposite is true, as there are many that charge a $100 trespass fee, but these are usually not the all-inclusive packages.
All Inclusive vs. Do-It-Yourself
Now, before you say those prices are way too much, consider what you get for, let's say, $300-$500 a day.
All Inclusive Pheasant Hunts
First, your pheasant hunting license is usually included, along with your comfortable accommodations.
Three squares a day, professional guides and dogs, snacks, beverages, ammunition, bird processing and freezer service, sporting clays, and so much more are the norm. In a nutshell, just show up and pull the trigger!
Do-It-Yourself Pheasant Hunts
If you break out the "do-it-yourself" package costs, you really are not paying that much more for some luxuries.
For instance, on a daily basis, say your hotel is $50.00 a night, plus lets say gas at $10.00 a day to travel to the public lands and back, add another $30.00 a day for meals, say $6.00 per bird for processing (3 a day possession is $18.00), your license is about $100.00 for non-residents (depends on the state), add about $10.00 for shells, another $30.00 for the bar tab at night, and you are already at about $170.00 per day-and you do all the work!
On top of all of that, are you really guaranteed birds? I have hunted public land in South Dakota during November where we could walk all day and see 3 hens and no roosters. That is South Dakota over-hunted public land for you.
Conclusions
In my opinion, I would think about spending a few extra bucks to go with a reputable outfitter or guide so they put you on some birds. In some states, just seeing those monster pheasant flushes is something you will remember for the rest of your life... is a few extra hundred bucks worth it?
Questions on Booking a Hunt?
If you are not sure quite what outfitter will fit your needs or where you can get good land access, we have created a service here at Ultimate Pheasant Hunting to help you get the correct hunting service you are looking for.
Fill out our general pheasant hunter questionnaire and we will get you the information you need. Give us your group size, what state you want to hunt in, amenities, if you are driving or flying, your budget or anything else you are looking for. We are here to help at Ultimate Pheasant Hunting!