Czechland Outfitters
Czechland Outfitters
Cass Reynolds - Owner/Operator
1235 230th Rd.
Cuba, KS 66940
Contact Info:
Phone: (785) 527-0631
http://www.czechlandoutfitters.com



Overview
Czechland Outfitters is located in North Central Kansas outside a small historical town with great hospitality, called Cuba, Kansas. Czechland Outfitters specializes in some of the best Kansas trophy whitetail deer hunting and trophy turkey hunting Kansas has to offer. If you want to hunt a true Kansas trophy, then Czech us out!
Czechland Outfitters has put together some of the best Kansas pheasant hunting, whitetail deer hunting, turkey hunting land available in North Central Kansas. The land consists of a combination of timber, grain fields, pastures, and CRP. All of the properties are pre-scouted and ready to hunt when you arrive.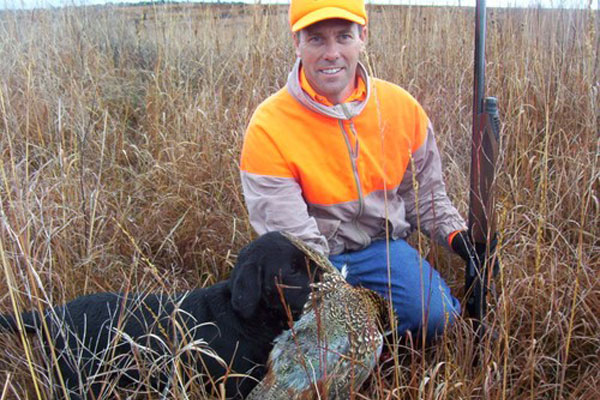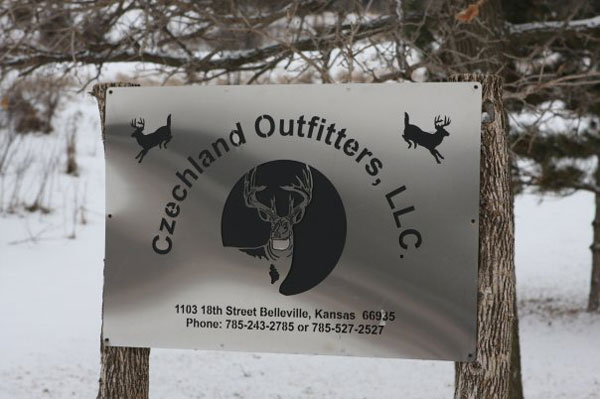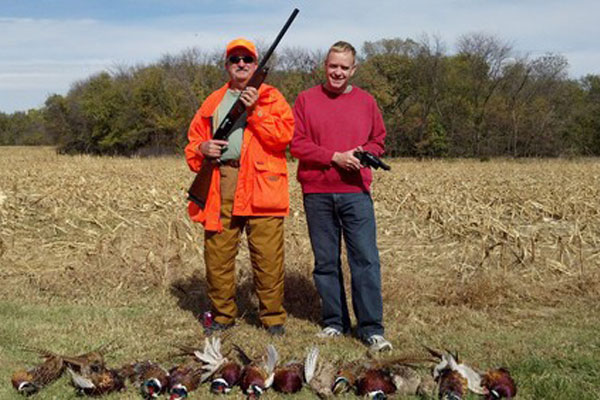 Hunting
You will have the opportunity to chase the flushing Kansas Ringneck Pheasants on 1000's of acres of native grasses, grain fields, and timber areas.  You will think you are in a pheasant hunters paradise once you experience the cackling of a long-tailed rooster on a cold Kansas morning.  Our pheasants will be guaranteed to test the shooting ability of every hunter. 
All hunts will be offered in a controlled shooting area that will not require a bag limit.  Hunts can be tailored to each individual hunters needs. Czechland Outfitters will also offer an exciting Kansas European Style pheasant hunt for larger groups of pheasant hunters.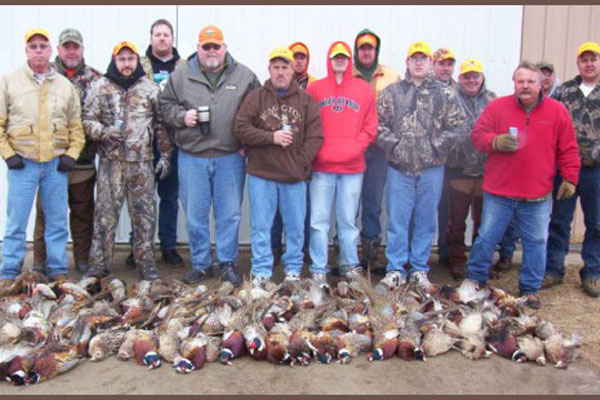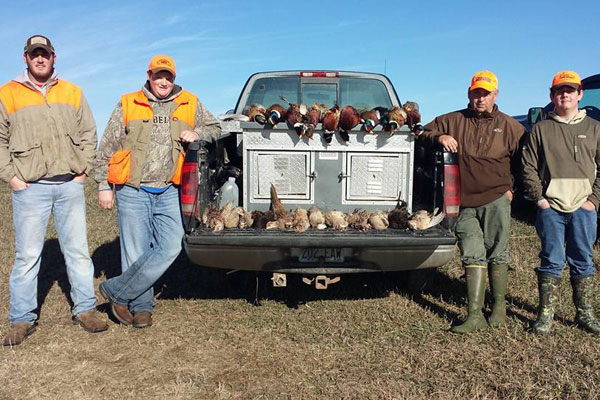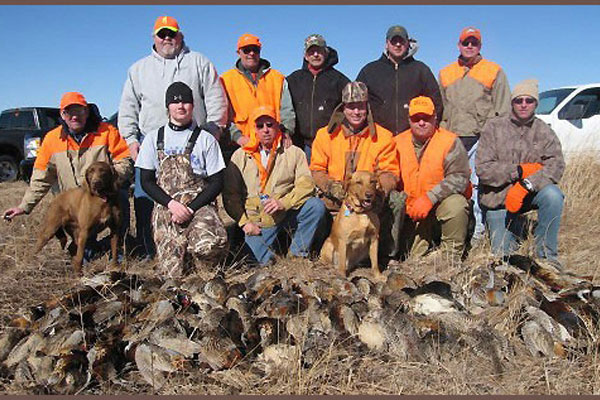 Rates
Pheasant Hunting Rates:
Half day (8:30-11:30) - $235.00 3 person min
Full day (8:30-11:30 & 12:30-3:30) $300.00 3 person min
A field lunch will be provided  with each full day hunt
European Hunting Rates:

$155 per shooter includes catered lunch
Contact Cass Reynolds to make your reservations.
2 3/4" max with 5-6 shot preferred *** Absolutely no 3" or 3 1/2" Magnum shells.
Upland bird season will run September 1st thru March 31st.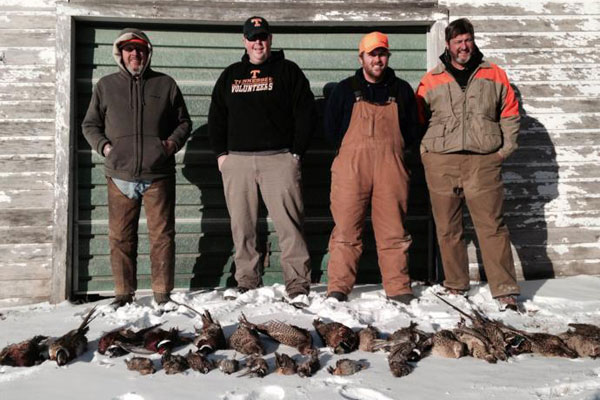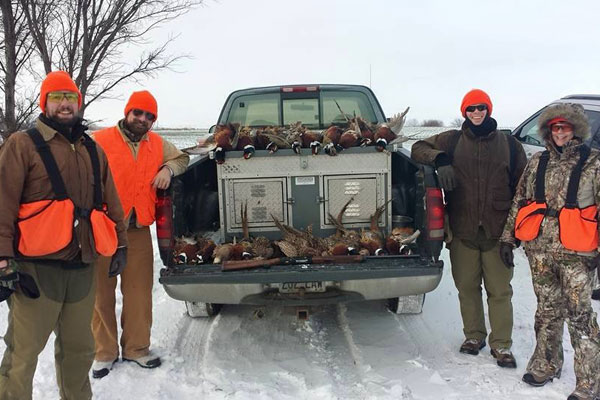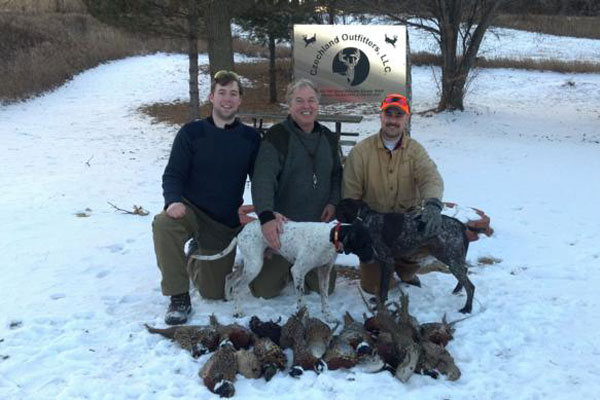 Lodging
The Czechland lodge was built over 100 years ago. It is one of the oldest operating farmyards in the state of Kansas, and consists of an older/updated farm house. The lodge is located in the heart of one of our best pieces of hunting property. It is not uncommon to see trophy whitetails running through the yard or hearing a trophy gobbler yards away in the creek bottom.
Lodge has 3 bedrooms, and can sleep up to 8 guests at a time.
Flat screen TV, DishNetwork Satellite TV and Firepit/Picnic Tables outside for evening enjoyment.
Amenities include: Shower, Washer/Dryer, Stove, Microwave, Grill and all cooking utensils
Hunts include lodging, but hunters are to bring their own food and beverages of choice.
Other Hunts
Czechland Outfitters Also Offers:
Kansas Whitetail Deer Hunting
Kansas Rio-Grande Turkey Hunting
Kansas Merriam/Rio Hybrid Turkey Hunting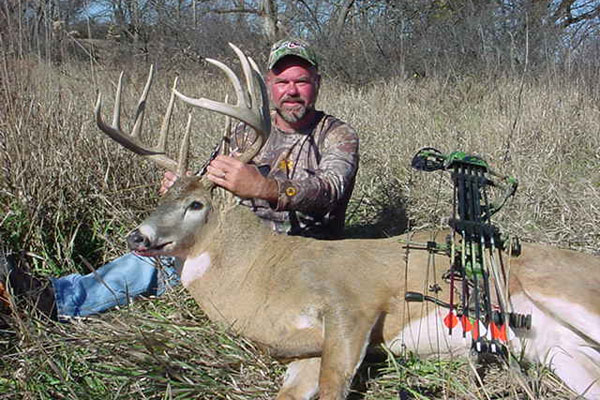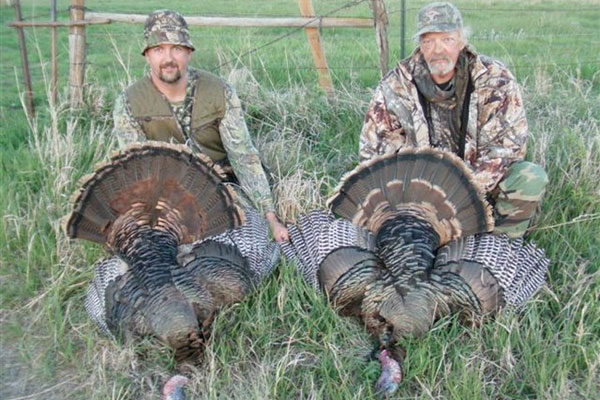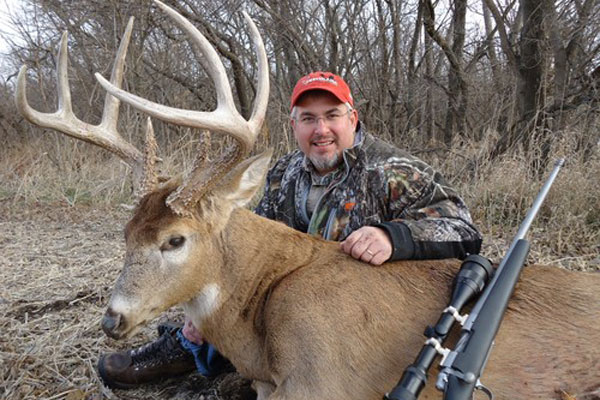 About Us
Lifetime friends and hunting buddies, JT Reynolds, Cass Reynolds, Heath Rhine and Monty Rhine founded Czechland Outfitters, LLC in 2005. The four of them grew up in Cuba Kansas and have been hunting this area all their life and know the land inside and out. These guys have had a lot of hunting success over the years and taken some monster bucks, now they would like to share this opportunity with everyone.
They started this outfitting business with the idea of having an outfitting business that would offer some of the best whitetail hunting available in the Midwest.It is their personal goal to see that all their hunters go home satisfied, and assure the hunter that they gave 100% of their efforts to make the hunt a true success.